Objective of the work
Pumping and fluidisation of about 4,000 cu m of heavy combustible oil with a significant presence of heavy hydrocarbon particles and water, contained in a vertical storage tank above ground, into tankers for transportation in real time to the treatment plants.
Operating procedure
A quantity of water amounting to not less than 10% was found in the oil.
The main issues relating to this job, which had to be done during winter, were:
the need to heat the product and keep it at a suitable temperature to remain liquid enough for efficiently carrying out the pumping, loading, transportation and unloading of the product at its destination without it solidifying even partially;
the need to transfer the oil to the tankers in the quantities and timescales required, while anticipating delays caused by setbacks whose number, frequency or duration could not reasonably be foreseen.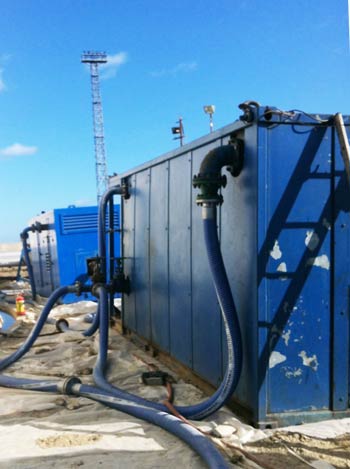 The work was carried out round the clock, and for its entire duration the oil was heated continuously to maintain the required temperature.
The heating process was carried out by recirculating the product in the tank, as follows:
sucking the HCO from the tank, transferring it to a heat exchanger and pumping it into the tanker; use of various types of pumps for the transfer, Combi pre-treatment units to homogenise the HCO, banks of filters, vapour coils for tracing the temporary lines used, sensors and thermal sensors for constant temperature control.
For filling the tankers, the following procedure was adopted: after heating to the required temperature the HCO was transferred to the tankers via a suitably prepared extension placed near to the valve at the bottom of the tank. At the same time the oil was being heated, treated, filtered and circulated.
The whole operation was carried out using closed circuits with virtually zero atmospheric emissions: before its release into the atmosphere the air coming out of the tankers was suitably filtered using active carbon mobile filter units.
All the work was carried out within the required timescales and deadlines, fully in accordance with the customer's requirements.